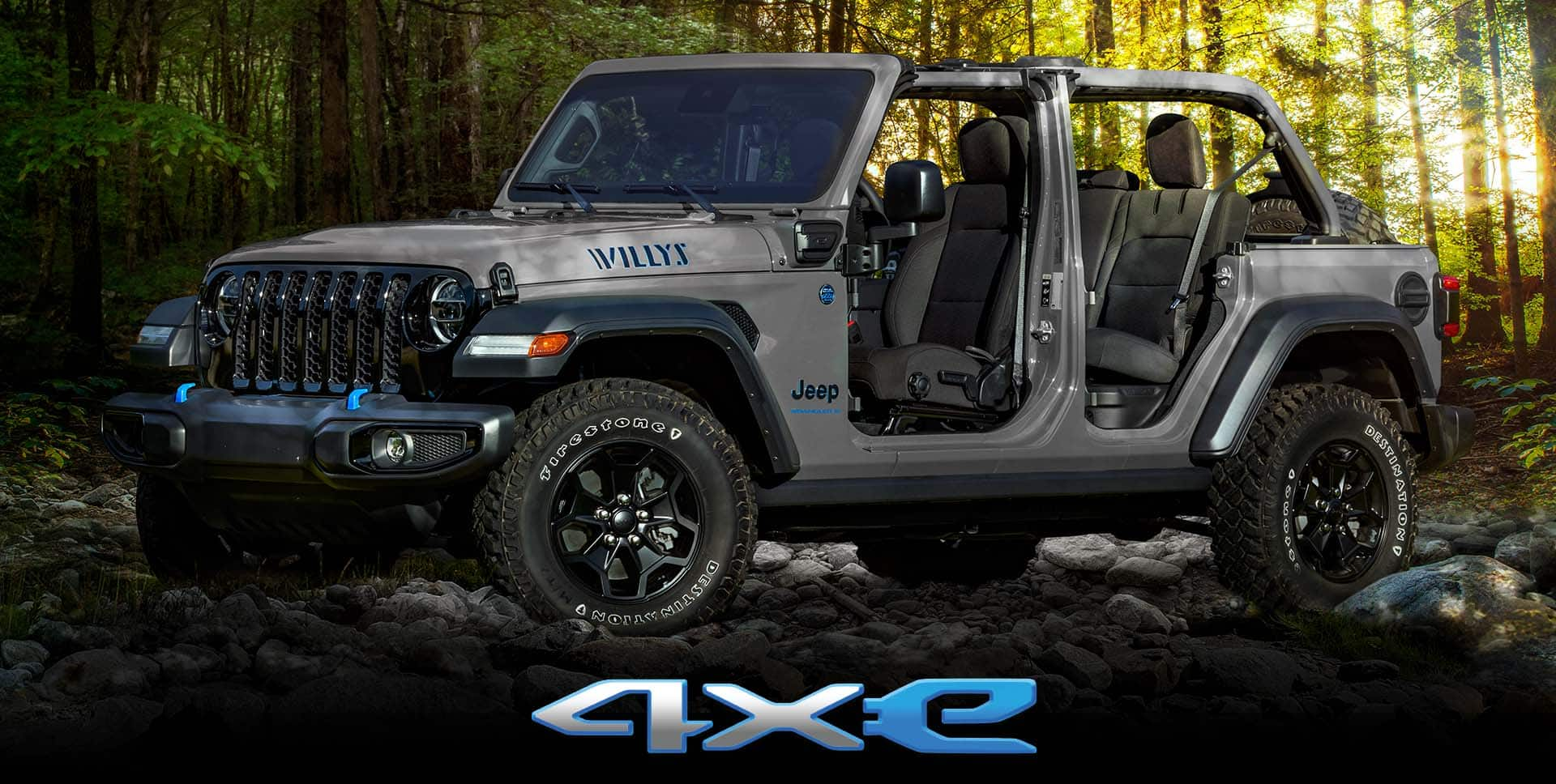 Performance
On all-electric power, the Wrangler 4xe features a manufacturer's estimated 49 MPGe ratin E-Selec driving modes put you in control. Electric Mode uses only battery power for low-emissions zones in cities or quiet off-roading with maximum torque, while eSave Mode reserves battery power for later. Hybrid Mode gives you the best of both worlds The default mode, Hybrid, combines torque from both the 2.0L turbocharged engine and the electric motors. This combination provides maximum horsepower, instant torque and the best acceleration. Electric power is consumed first. When the battery has more than a 1% charge, it can run in Electric Mode. This allows for nearly zero tailpipe emissions up to highway speeds. The vehicle can run in this mode for up to 21 miles eSave Mode prioritizes the 2.0L engine. This saves the battery charge for later use. When power demand is low, the engine shuts off. It can also be reconfigured to increase the battery charge as well.
The regenerative braking feature allows the battery to be charged when decelerating and braking. The Max Regeneration feature remaps the accelerator pedal to command more aggressive regen at low pedal positions. It allows you to slow the vehicle down without the brake pedal, but a complete stop always requires the brake pedal. It also stays selected until you turn it off. The battery can be fully recharged in approximately 2 hours using an available Level II charger) (240-volt), or 12 hours using the included Level I charger (120-volt). With the ability to charge at home and work, you can enjoy the benefits of fully electric daily commutes.
Hybrid Capability
The 2023 Wrangler 4xe delivers an impressive 375 horsepower and 470 pound-feet of instant torque for heart-pounding performance off-road and on-road. The torque provided by the electric motor improves rock crawling capabilities and powerful speed off the line. And for impressive traction, it's the Industry's First PHEV with Front and Rear Locking Differentials. The Wrangler 4xe is the Industry's First Plug-in Hybrid Electric Vehicle (PHEV) with a Front and Rear Locking Differential. Its system is paired with a 2.0L I4 DOHC direct-injection Turbo PHEV engine. A 17-kWh lithium-ion battery pack, regenerative brake booster and eight-speed automatic transmission work together to send impressive amounts of power and torque to each wheel, maximizing the capability of every component. The sealed and waterproof battery pack and electronics even perform in tough conditions like fording creeks and streams( Disclosure9) up to 31.5 inches in depth.
Charge From Home Or On The Road
If you're worried about finding a place to charge up while on your next adventure, Jeep is already thinking ahead. Harnessing the power of the sun, the Jeep® Brand is installing solar-powered charging stations on key trails in the U.S. so you can get charged up before taking on the trails. Charging your Wrangler 4xe is simple. An included Level I charging cable will fully charge the battery in 12 hours while an available and simple-to-use Level II Jeep® Branded Charger can fully charge your Wrangler 4xe battery in approximately 2 hours.
Interior
Designed with the true thrill-seeker at heart, the interior of the 2021 Jeep Wrangler 4xe presents a modern yet rugged design, perfect for everyday drives and off-road adventures. Stay connected and up to date on your Jeep hybrid with the available 8.4-inch Uconnect 4C NAV screen, which displays hybrid specs including your remaining driving range and current battery charge percentage. A dash-mounted charge-bar indicator will also show the status during your charging sessions.